Grover Cleveland
22nd and 24th President of the United States
(March 4, 1885 to March 3, 1889 and March 4, 1893 to March 3, 1897)
Nickname: "Veto Mayor"; "Veto President"
Born: March 18, 1837, in Caldwell, New Jersey
Died: June 24, 1908, in Princeton, New Jersey
Father: Richard Falley Cleveland
Mother: Anne Neal Cleveland
Married: Frances Folsom (1864-1947), on June 2, 1886
Children: Ruth Cleveland (1891-1904); Esther Cleveland (1893-1980); Marion Cleveland (1895-1977); Richard Folsom Cleveland (1897-1974); Francis Grover Cleveland (1903-1995)
Religion: Presbyterian
Education: No formal education
Occupation: Lawyer
Political Party: Democrat
Other Government Positions:
Sheriff of Erie County, NY, 1870-73

Mayor of Buffalo, NY, 1882

Governor of New York, 1883-85
Presidential Salary: $50,000/year
| Year | | Popular Votes | Electoral Votes |
| --- | --- | --- | --- |
| | Grover Cleveland | 4,879,507 | 219 |
| | | 4,850,293 | 182 |
| | Benjamin Harrison | 5,447,129 | 233 |
| | Grover Cleveland | 5,537,857 | 168 |
| | Grover Cleveland | 5,555,426 | 277 |
| | Benjamin Harrison | 5,182,690 | 145 |
| | | 1,029,846 | 22 |
Vice President: Thomas A. Hendricks (1885-89); Adlai E. Stevenson (1893-97)
Cabinet:
Secretary of State

Thomas F. Bayard (1885-89)

Walter Q. Gresham (1893-95)

Richard Olney (1895-97)

Secretary of the Treasury

Daniel Manning (1885-87)

Charles S. Fairchild (1887-89)

John G. Carlisle (1893-97)

Secretary of War

William C. Endicott (1885-89)

Daniel S. Lamont (1893-97)

Attorney General

Augustus H. Garland (1885-89)

Richard Olney (1893-95)

Judson Harmon (1895-97)

Postmaster General

William F. Vilas (1885-88)

Donald M. Dickinson (1888-89)

Wilson S. Bissell (1893-95)

William L. Wilson (1895-97)

Secretary of the Navy

William C. Whitney (1885-89)

Hilary A. Herbert (1893-97)

Secretary of the Interior

Lucius Q. C. Lamar (1885-88)

William F. Vilas (1888-89)

Hoke Smith (1893-96)

David R. Francis (1896-97)

Secretary of Agriculture

Norman J. Colman (1889)

Julius Sterling Morton (1893-97)
Compiled by the White House.

Grolier Online has created this resource from its collection of print articles in Encyclopedia Americana. Contains a full biography, written by Vincent P. De Santis of the University of Notre Dame, along with suggestions for further reading.

From the Miller Center of Public Affairs at the University of Virginia, in addition to information on the Presidents themselves, they have first lady and cabinet member biographies, listings of presidential staff and advisers, and timelines detailing significant events in the lives of each administration.

The text from page 1 of The New York Times, June 25, 1908. Placed on the web by Manus Hand.
Audio

First minute of his 1892 campaign speech. Begins with the music "Hail to the Chief" (1:21)

From the Vincent Voice Library at Michigan State University under the leadership of Dr. Maurice Crane.
None
He was born Stephen Grover Cleveland.

Cleveland is the only president to serve two nonconsecutive terms.

Cleveland discovered a cancerous growth on the roof of his mouth in the middle of the economic crisis of 1893. So that his illness would not cause a greater panic, he and several doctors snuck aboard a pleasure boat and removed the growth. The public thought he was on a fishing trip and never knew the truth until 1917.

While sheriff of Erie County, New York, Cleveland was also the public executioner and personally hanged two murderers.

Cleveland was the first executive movie star. In 1895, Alexander Black came to Washington and asked Cleveland to appear in "A Capital Courtship", his photoplay. He agreed to be filmed while signing a bill into law. "A Capital Courtship" was a big hit on the Lyceum Circuit.

Since Cleveland was the sole supporter of his family during the Civil War, he paid a substitute to take his place.

Cleveland answered the White House phone, personally.

Cleveland vetoed 414 bills in his first term, more than double the 204 vetoes cast by all previous presidents. Cleveland used his veto powers 584 times during his two terms. This is the highest total of any president except Franklin D. Roosevelt, who served three terms.

"Death and Destruction" was the name that Grover Cleveland gave to his favorite hunting rifle.

He was the only president married in the White House.

According to the Curtiss Candy Company (and now Nestle ®), the Baby Ruth candy bar was named after Cleveland's baby daughter, Ruth. Snopes.com, the Urban Legends Reference Pages, argues that this is false and that the candy bar was named after famous baseball player Babe Ruth.

The only president's child born in the White House was Cleveland's daughter Esther.

Grover Cleveland
24th President of the United States
(March 4, 1893 to March 3, 1897)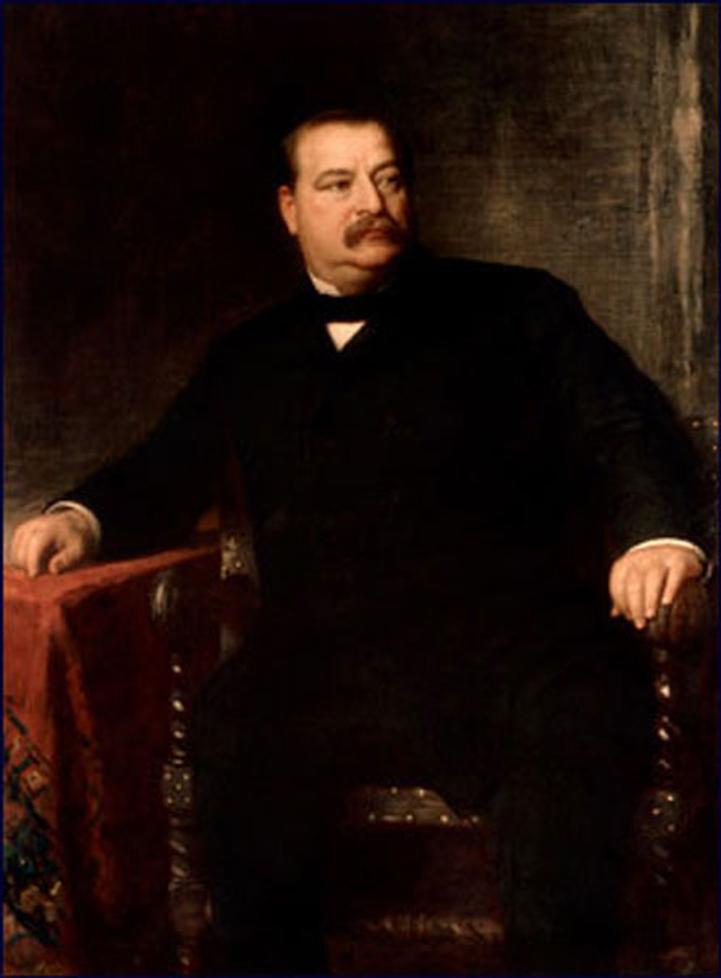 Frances Cleveland
Videos