John Fitzgerald Kennedy
35th President of the United States
(January 20, 1961 to November 22, 1963)
Nickname: "JFK", "Jack"
Born: May 29, 1917, in Brookline, Massachusetts
Died: November 22, 1963, in Dallas, Texas
Father: Joseph Patrick Kennedy
Mother: Rose Elizabeth Fitzgerald Kennedy
Married: Jacqueline Lee Bouvier (1929-1994), on September 12, 1953
Children: Caroline Bouvier Kennedy (1957- ); John Fitzgerald Kennedy, Jr. (1960-99); Patrick Bouvier Kennedy (1963)
Religion: Roman Catholic
Education: Graduated from Harvard College (1940)
Occupation: Author, public official
Political Party: Democrat
Other Government Positions:
Member of U.S. House of Representatives, 1947-53

United States Senator, 1953-61
Presidential Salary: $100,000/year + $50,000 expense account (refused by Kennedy)
| Year | | Popular Votes | Electoral Votes |
| --- | --- | --- | --- |
| | John F. Kennedy | 34,226,731 | 303 |
| | Richard M. Nixon | 34,108,157 | 219 |
Vice President:
Lyndon B. Johnson (1961-63)
Cabinet:
1960

1961

The U.S. sponsored Bay of Pigs invasion of Cuba was attempted without success.

Nikita Khrushchev, the Prime Minister of the Soviet Union, ordered the creation of the Berlin Wall in June to divide Soviet-controlled East Berlin from West Berlin, which was part of the free and democratic West Germany.

1963

The Limited Nuclear Test Ban Treaty was signed on August 6 by the United States, the United Kingdom, and the Soviet Union.

President Kennedy was assassinated on November 22, 1963 in Dallas Texas.
Kennedy's speech to the students at the University of Michigan in Ann Arbor on October 14, 1960 was the start of the Peace Corps.

In his speech to a Joint Session of Congress on May 25, 1961, Kennedy set the goal of landing a man on the moon by 1969 for the United State's Space Program (NASA).

Kennedy gave a famous speech in West Berlin in June 1963 that emphasized the importance of the "free world" fighting the "Communist world". Two memorable phrases that he spoke in German were: "Lassísie nach Berlin kommen," or "Let them come to Berlin"; and "Ish bin ein Bearleener," or "I am a Berliner."

Kennedy was assassinated on November 22, 1963 in Dallas Texas. He had spent little more than a thousand days in office before being assassinated.

In 1965, the report of the President's Commission on the Assassination of President Kennedy (also known as the Warren Commission) found that a lone gunman, Lee Harvey Oswald, fatally shot Kennedy from the sixth floor of the Texas School Book Depository. Three other government investigations were later conducted. All three agreed with the Warren Commission's conclusions that Oswald's shots did kill Kennedy. However, the House Select Committee on Assassinations (HSCA) in 1979 also concluded that another shooter fired upon Kennedy from the Dealey Plaza grassy knoll and missed. The existence of a second shooter and many other conclusions in these investigations are very controversial.

John Fitzgerald Kennedy
35th President of the United States
(January 20, 1961 to November 22, 1963)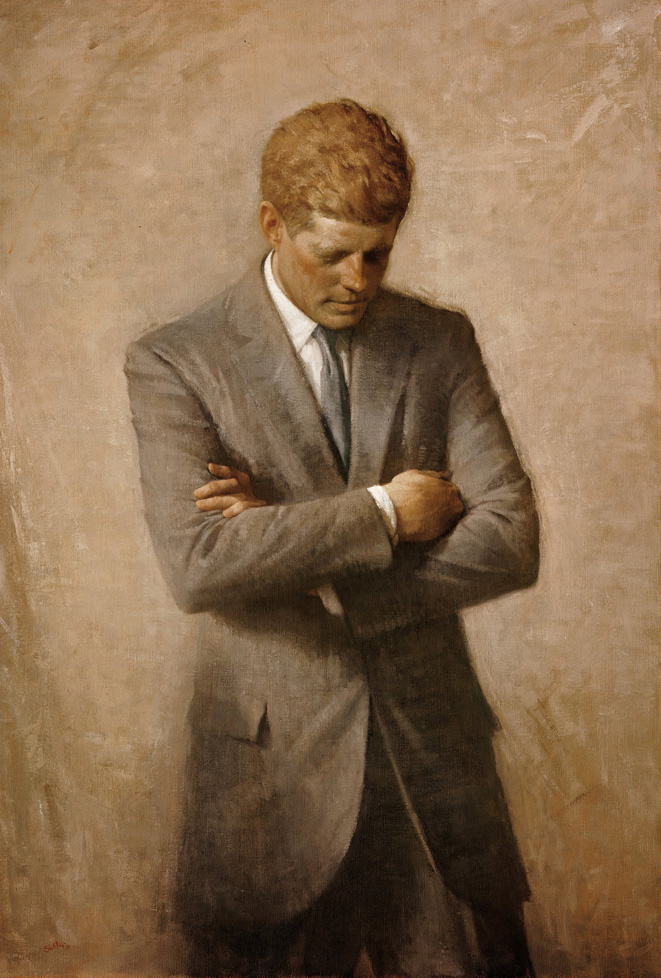 Jacqueline Kennedy
Videos